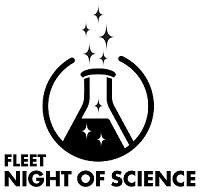 Fleet Night of Science - Circus Feats & Science Geeks
Thu, Jul 16, 2015 at 6:30pm
Thursday, July 16, 2015 from 6.30pm to 9.30pm
Fleet Night of Science: Circus Feats & Science Geeks.
Run away and join the circus for one night in celebration or our newest exhibition, CIRCUS: Science Under the Big Top. Wanna bend your body like a contortionist? Dream of being shot out of a cannon? Our friends from the local scientific community will be there to help you figure out if you've got what it takes to become a circus star! Explore how athletes and performers push their bodies to the limit by watching a special screening of the classic IMAX® movie To The Limit. The film follows a professional skier, a mountain climber and a ballerina to take a closer look at the amazingly strong machine we call our body. And if that's not enough, then try your skills on the tight rope or fly through the air with the greatest of ease in our elastic acrobatics exhibit, be dazzled by local circus performers and take a show-stopping selfie when you dress up in one of our many fun circus costumes. All the while, DrumBeats by Dre will set the mood, God Save the Cuisine will offer sustenance for purchase and BarWorks will sell liquid refreshments. Run away and join the fun at the Reuben H. Fleet Science Center!
THIS EVENT IS FOR 21+ ONLY!
Event Schedule:
6.30pm: Doors open
7:15pm: Circus performance by The Circus Collective
7.45pm: Math behind Juggling presentation
8:15pm: Screening of To The Limit
9pm: Circus performance by The Circus Collective
About Fleet Night of Science:
No kids. All fun. Fleet Night of Science is a quarterly after-hours event for chic geeks 21+. You get the science center all to yourself (no kids allowed!) to explore exhibits, sip cocktails, enjoy edibles, listen to music and get your geek on with science experiments, clever chats and delightfully nerdy experiences. You might learn the physics of beer pong (while playing the game, of course) or ask an astronomer your burning questions about Mars. You could enjoy a science comedy show or design a stomp rocket. Your ticket gives you access to all of the Fleet's exhibits and the evening's science-infused fun. Food and beverages are available for purchase, and proceeds support the Fleet's nonprofit mission of inspiring science learning.